A fouçe coma simbolo Catalan
Los arqueólogos que trabajan en el yacimiento de Costamar, en Cabanes, han hallado el mango de una hoz fabricada con asta de ciervo durante el periodo Neolítico, según han informado fuentes de la Fundación Marina d'Or en un comunicado.
La herramienta tiene una longitud de 37 centímetros y en la parte distal conserva uno de los extremos apuntados del asta, que habría servido para recoger las espigas.
El hallazgo se ha producido en las excavaciones que realiza la Fundación Marina d'Or y la Universidad Politécnica de Valencia en la zona, bajo la dirección del arqueólogo Enric Flors. La pieza ha sido analizada por responsables de la Institución Milá y Fontanals de la Agencia Estatal Consejo Superior de Investigaciones Científicas (CSIC-IMF).
Según el comunicado, este tipo de hoces realizadas sobre madera -quehasta el momento solo se conocían las recuperadas en el yacimiento de La Draga, en Banyoles (Girona)-, se caracterizan por presentar una ranura en la cara superior, con el fin de introducir una lámina de sílex insertada en diagonal.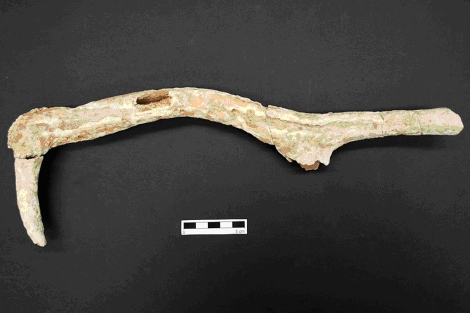 A fouçe como simbolo de
Catalunya!
Según los doctores Juan F. Gibaja y Juan José Ibáñez, investigadores del CSIC-IMF que han analizado la pieza, "la hoz se utilizaría sujetándola por la zona proximal y acopiando los tallos con el apéndice transversal y recogiéndolos con la mano". "En ese momento se giraría la hoz 90º, de manera que los tallos se podrían cortar con la lámina que debía estar enmangada".
Los resultados de la investigación han sido publicados en la revista Antiquity bajo el título 'An antler sickle from the Neolithic site of Costamar at Cabanes (Castellón) on the Mediterranean Spanish coast'.
La entidad resalta que fruto de la colaboración entre la fundación y la Universidad Politécnica de Valencia ha permitido la restauración y la conservación de centenares de piezas y, mediante el convenio con la Universidad de Valencia, se han realizado los análisis sobre los restos recuperados.
Hasta la fecha, se han excavado más de 100.000 metros cuadradosen los que se han hallado restos que datan desde el Neolítico Antiguo hasta la actualidad.
Además, según la Fundación Marina d'Or, se han recuperado más de 130.000 fragmentos cerámicos de diferentes épocas de los que se han analizado ya cerca de 50.000.